Spain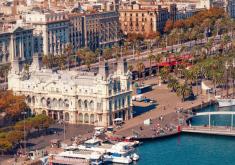 Dip your feet into the warm waves of the Mediterranean, in the Catalan capital of culture. Lively and colourful Barcelona faces the Mediterranean Sea and features the world's top city beaches, including Sant Sebastià, Barceloneta and...
Madrid's effervescent spirit and energy will leave you breathless... Modern Madrid is one of the greenest cities in Europe and the most popular destination in Spain. Whether you want to experience its legendary nightlife or a flamenco show, this...
Seville sizzles with southern passion... Seville is a city that lends itself perfectly to just wandering around and soaking up the atmosphere. And there is plenty of atmosphere to be soaked up. Strutting bullfighters, spirited señoritas in...